Konica Minolta's 2430 DL Color Laser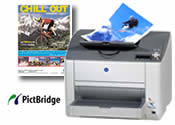 By David Em
(Konica Minolta's 2430 DL Color Laser : Page 1 of 1 )
If you own a black and white laser printer, you may feel almost emotionally attached to it. And with good reason: An HP Laser Jet, for example, costs a few hundred bucks and just keeps pumping away, year after year, with minimal upkeep or overhead. Compared to their monochrome cousins, color lasers are expensive. Small businesses and individuals who need desktop color usually resort to low-cost color inkjet solutions, but inkjets aren't particularly fast, don't do two-sided duplexing, and as anyone who owns one will attest, their ink consumables cost plenty.
Now several companies including Xerox, HP, Samsung, and Dell have introduced desktop color laser printers in the five hundred dollar range. One of the most interesting is Konica Minolta 's $499 magicolor 2430 DL.
Setup
Putting the 2430 DL's parts and pieces together is fairly straightforward, although why printer manufacturers refuse to include simple one or two sentence instructions for each step of the operation remains a mystery.
The 2430 DL has both USB 2 and 10/100Base TX Ethernet network connectivity (there's also a non-networked version that sells for between $299 and $399). Setting up the 2430 DL as a network printer under Windows XP was a snap. The Konica Minolta software found and installed it in a few minutes with almost no human intervention.
Media Lab associate Dan Spisak found that getting it to run under OS X on the Mac was a bit more convoluted, but not too hairy. Linux drivers are also available.
Image Quality
I was very impressed with the quality of the 2430DL's images. The four-pass printer calibrates itself automatically for color and detail. Even without setting up ICC color profiles, the printer did a very good job for the most part at hitting the correct color and tonal ranges. Some of the color edging common to color laser printing was evident on plain paper, but on a higher quality gloss stock it was barely perceptible. The surface of the prints was generally consistent, and text and lines were nice and sharp.